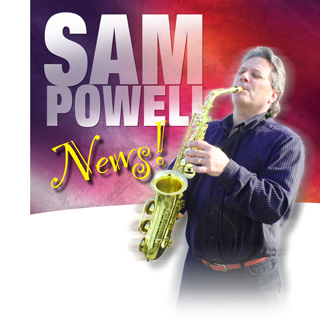 News and updates from the music ministry of Sam Powell...
Updated January 24, 2017
2017 CONCERT SCHEDULE
2016 was a much needed break for Sam as a time of prayer and reflection, but 2017 is starting off strong with a number of concerts already scheduled.
If you haven't seen Sam in concert yet, check it out -- it will be worth your while! Not only will you witness Sam's many musical gifts on display but the Word of God through song will surely touch your heart and soul and minister to you in a unique way. Most people sit in amazement wondering "which instrument will Sam pick up next?" while being blessed by his smooth vocals and jazzy arrangements.
...check the "in concert" link to the right for more information!
"GO TO NINEVEH" UPDATE
My 3rd CD,
"Go to Nineveh,"
...IS DONE!! Tetelestai -- "it is finished!" After almost 10 years of late nights in the studio, recording, mixing and mastering is finally over and 10 very cool tunes are ready to be used by God to touch lives. Sam is excited about this collection of songs, which vary in subject matter but are unified in their proclamation of biblical truth. Thanks to special guests
Mario Cruz, Steve Briody, Adam Colombo, Jeannie Ortega, Kristin Seely
and
Ana Liriano
for generously lending their gifts to this project. Click on "listen now!" to the right for previews of the new sound!
NEW CD PROJECTS UNDERWAY!
"A Soul Set Free"
is the tentative title of Sam's 3rd collection of original gospel tunes and it is officially in the works. So far these songs have a somewhat latin flavor, particularly the title track. Here is a preview of some of the song titles: "Create in Me", "One Lucky Man", "Happy is the Man", "Devil's Tryin'a Get Me Again". Projected completion date: early 2018 Lord willing! Sam will be "test driving" a number of these songs in his 2017 concerts.
Sam's passion may be writing and recording original material, but he also takes great enjoyment in ministering the great praise and worship songs that God has inspired others to compose. So he is well into recording his second collection of popular p&w songs which will be entitled
"God is Love II".
The first collection,
"God is Love"
continues to sell really well at concerts, praise the Lord!